Fashion and painting – this is the motto of a new exhibition at the Montez Family Art Association in Frankfurt. Shortly before Fashion Week, designer Nina Hollin shows how attractive sustainable fashion can be.
Nina Hollen has lived in Frankfurt for 15 years – with her husband, Max Hollen, the former Städel manager. During that time she was running her own store in Sachsenhausen. Now she and her brother Philipp Schweiger are putting on a very special show at the Kunstverein Montez am Hafenpark The project: Your new – sustainable – collection of unique, handcrafted pieces matches our large-format landscape paintings.
The special feature: All pieces of clothing are sewn from a variety of fabrics. "We didn't buy anything," the designer explains. "All the fabrics come from our warehouse or from the archives. In some cases, I used suits from family members." This is not called recycling, but rather recycling. During production, care was also taken to work in a way that conserves resources, Hollin emphasizes.
Dance like in the Roaring Twenties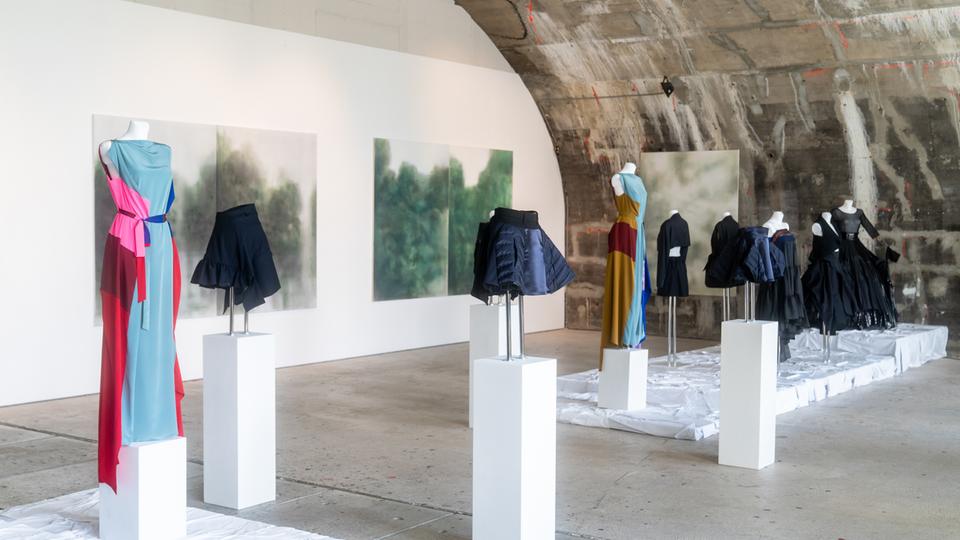 The group remains dark. The clothes are presented symmetrically on four white bases: short skirts, to the right and left, long evening dresses in black and anthracite. Houlin's trademark is the multifunctionality of her clothing. A piece of clothing can be worn as a skirt, robe, or blouse. Imagination knows no bounds.
Her work is for wealthy clients, and the cost per piece is about 2,000 euros. The costume designer says clients also need attention to detail, pointing to a black fringed skirt: "This one with fringed fabric I still carry that reminds us of the Roaring Twenties. It's a great skirt. It was on my mind: When this shutdown is over, we'll dance like we're in the Roaring Twenties. ". Her work and that of her brother can be admired until July 25.