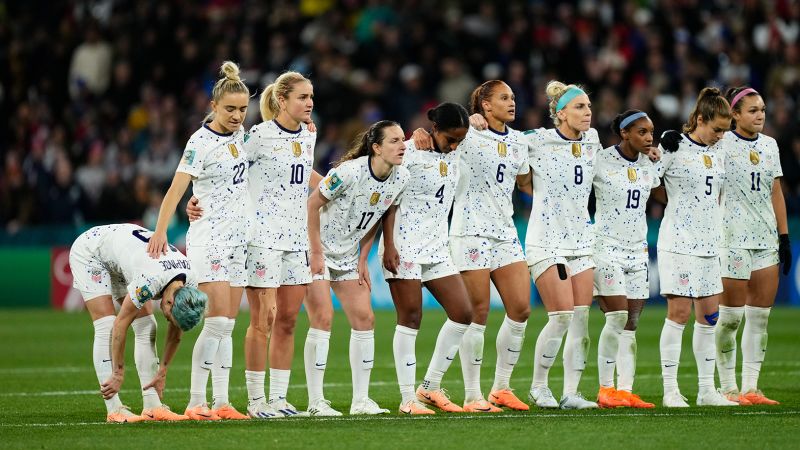 Title: Trump Blames Megan Rapinoe and Biden's "Woke" Path for US Women's World Cup Loss
Former US President Donald Trump has voiced his criticism and blamed the US women's national team's recent loss in the World Cup on star player Megan Rapinoe and President Joe Biden's "woke" path. Taking to his social media platform, "Truth Social," Trump expressed dissatisfaction with the team's behavior and claimed that no other country displayed a similar attitude.
Trump's comments came after Rapinoe missed a penalty kick in a crucial game, reigniting their contentious history together. In addition to Trump, conservatives, including former Fox News host Megyn Kelly, joined in the criticism by suggesting that the team's values and perceived criticism of the United States played a role in their defeat.
The controversies surrounding Rapinoe date back to 2019 when she made comments following the team's World Cup win, suggesting that America is not great for enough Americans. These remarks might have prompted Kelly's recent remarks about the team.
As a prominent advocate for social issues, Rapinoe has described herself as a "walking protest," actively campaigning for LGBTQ+ rights, racial inequality, and gender and pay equity. President Biden acknowledged her efforts by awarding her the prestigious Presidential Medal of Freedom in 2022, commending her work towards equal pay and LGBTQ+ rights.
The Bidens have been staunch supporters of the US women's soccer team, showcasing their unwavering support by displaying a billboard at the White House cheering them on. First lady Jill Biden, in stark contrast to Trump's reaction, called the team an inspiration to women and girls across the nation following their loss.
While Trump and some conservatives attribute the team's defeat to their outspoken advocacy and perceived criticism of the country, others stress the importance of recognizing and supporting athletes' right to voice their opinions on social issues. The US women's national team continues to shape the discussion around sports and societal activism, sparking debates among passionate supporters and critics alike.
In conclusion, the World Cup loss suffered by the US women's national team has become entangled in a larger debate over political opinions and activism. With Trump and conservative pundits pointing fingers at Rapinoe and her advocacy work, and the Bidens standing by the team's side as they push for representation and equal rights, the controversy surrounding the defeat provides insight into the intersection of sports, politics, and social justice.