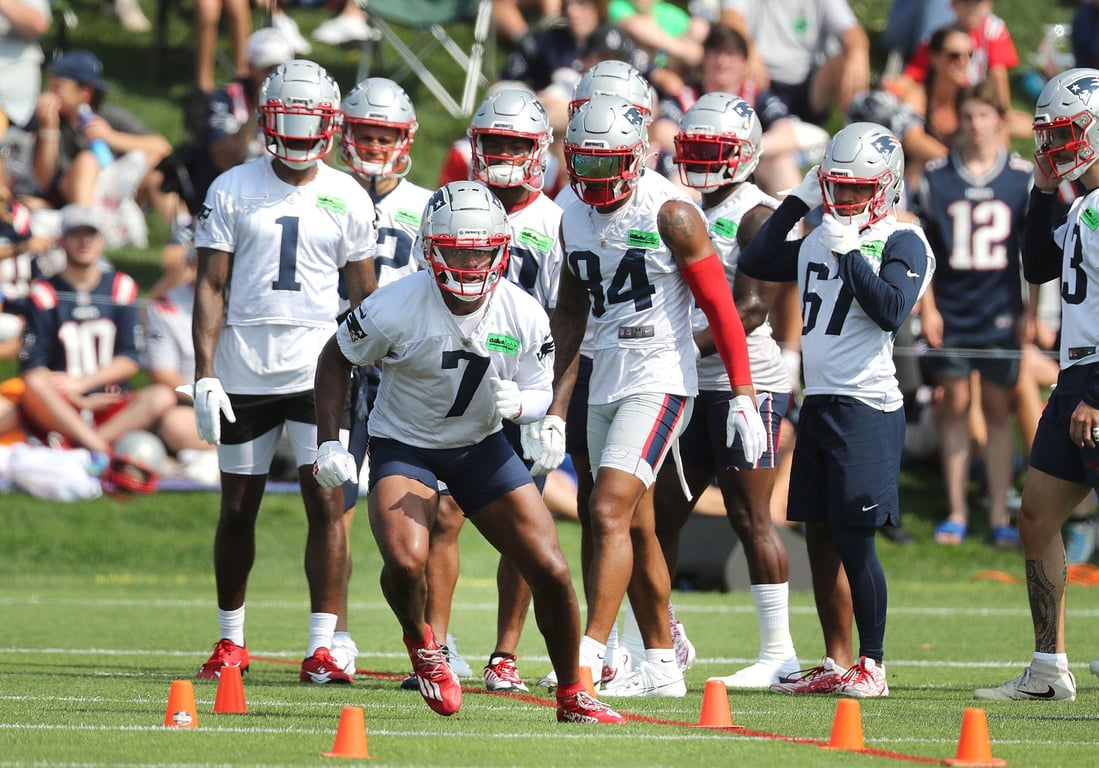 Title: Patriots Training Camp Provides Early Insights on Mac Jones, Jack Jones, and Juju Smith-Schuster, among others
In the early days of the Patriots' training camp, rookie quarterback Mac Jones had a rather underwhelming start. Jones threw an interception and delivered a so-so overall performance, leaving some fans with concerns about his abilities. However, it's important to remember that it's only the beginning of camp, and there is still plenty of time for improvement.
The lackluster performance by all quarterbacks, including Jones, may suggest that the Patriots' defense is performing impressively early on. With interceptions and disrupted passes, the defense is putting pressure on the offense and showing promise for the upcoming season.
One significant storyline during the offseason was the Patriots' pursuit of wide receiver DeAndre Hopkins. However, Hopkins ultimately signed with the Tennessee Titans. Despite this, Jones expressed confidence in the team's current receiving group, assuring fans that they have talented players who can make an impact.
Meanwhile, cornerback Jack Jones continues to practice with the team, despite facing a legal case stemming from a June arrest. The Patriots have remained tight-lipped about his situation, leaving fans curious about his future with the team.
On a more positive note, new addition Juju Smith-Schuster made an energetic impression on fans during his first practice with the Patriots. Smith-Schuster pumped up the crowd and showcased his receiving skills, catching passes from Jones. His presence on the field brings excitement and anticipation for what he can bring to the team.
Safety Kyle Dugger declined to provide details about his ongoing contract talks with the team but expressed his desire to continue playing for New England. Dugger has proven to be a valuable asset to the Patriots' defense, and fans hope to see him on the field for seasons to come.
Linebacker Marte Mapu, known for his injury history, participated in practice while wearing a red non-contact jersey. This precautionary measure demonstrates the team's efforts to preserve his health and ensure his readiness for the upcoming season.
During practice, the team emphasized improving their red zone offense, focusing primarily on passing plays. This attention to detail underscores the Patriots' commitment to improving their offensive game and maximizing opportunities to score points.
After a plagued 2022 season, Ty Montgomery displayed his full potential during training camp, showcasing his versatility as both a receiver and running back. Montgomery's performance has been impressive, leaving fans hopeful for his impact on the field this season.
Unfortunately, backup quarterback Bailey Zappe struggled during training camp, with a rough day in both 11-on-11 and red zone drills. This performance raises questions about the team's backup plans in case of an injury to Mac Jones.
In lighter news, linebacker Matthew Judon maintained his signature look by wearing a red long-sleeve shirt underneath his jersey, despite the sweltering summer heat. Fans appreciate Judon's dedication and unique style, making him a fan favorite.
Lastly, defensive end Deatrich Wise celebrated his 29th birthday during training camp. As he left the field after practice, fans gathered to sing "Happy Birthday" to him, showing their support and appreciation for his contributions to the team.
Overall, Patriots training camp has provided early insights into the performance and dynamics of key players on the team. With highs and lows, the camp offers fans a glimpse into what can be expected for the upcoming season. As the training camp progresses, fans eagerly anticipate the continued development of the team and the players' preparations for the challenges ahead.