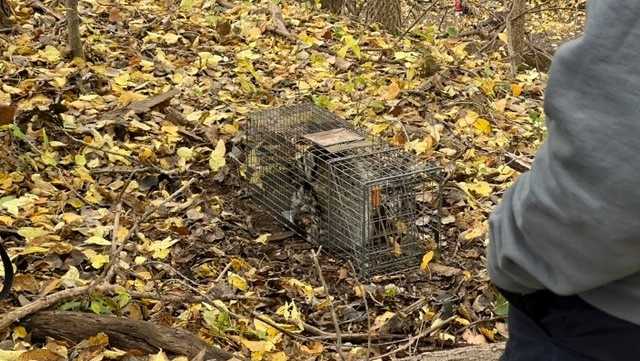 Douglas County Health Department Initiates Oral Rabies Vaccine Bait Distribution
In an effort to prevent the spread of a rare variant of rabies in animals, the Douglas County Health Department has taken on a new approach by distributing oral rabies vaccine baits. These baits, about the size of ketchup packets, will cover a 62 square mile area across the county, aiming to protect both animals and humans alike.
The oral rabies baits are being distributed in collaboration with the Centers for Disease Control and Prevention (CDC) and the U.S. Department of Agriculture (USDA). This innovative preventive measure is a first for the state and shows great promise in curbing the transmission of raccoon rabies.
To entice animals to consume the baits, they are coated in a fish meal attractant. They will be strategically placed in grassy areas, woods along fence lines, and even in landscaping. This comprehensive approach ensures that the baits reach a diverse range of animal populations, including those that may be living in urban or suburban areas.
The distribution of these baits is an additional step to the ongoing effort of trapping and testing raccoons in the eastern part of Douglas County. By taking a multifaceted approach, the health department is confident in its ability to detect and control the spread of rabies among the local raccoon population.
Not only are these baits safe for animals and people, but they also help minimize the risk of rabies transmission. However, it is important to handle them with caution. Those who come across the baits are advised to wear gloves and use a plastic bag or paper towel when picking them up.
In case of any questions or if assistance is needed, individuals can directly contact the health department. Their primary goal is to ensure that raccoon rabies does not spread further in the area. Fortunately, since the report of an infected kitten, there have been no additional cases of rabies among animals in the county.
To help the public identify potential rabies cases, the health department advises looking out for warning signs in animals. These include aggression, stumbling or confusion, and excessive drooling. If any of these signs are observed, it is crucial to have the animal checked by a veterinarian immediately.
Furthermore, the health department urges the public to report any dead animals found in the county to the humane society. This information can help monitor the overall rabies situation and improve control efforts.
By implementing oral rabies vaccine baits and maintaining a comprehensive approach to rabies prevention, the Douglas County Health Department aims to protect its residents and wildlife from the dangers of this infectious disease.