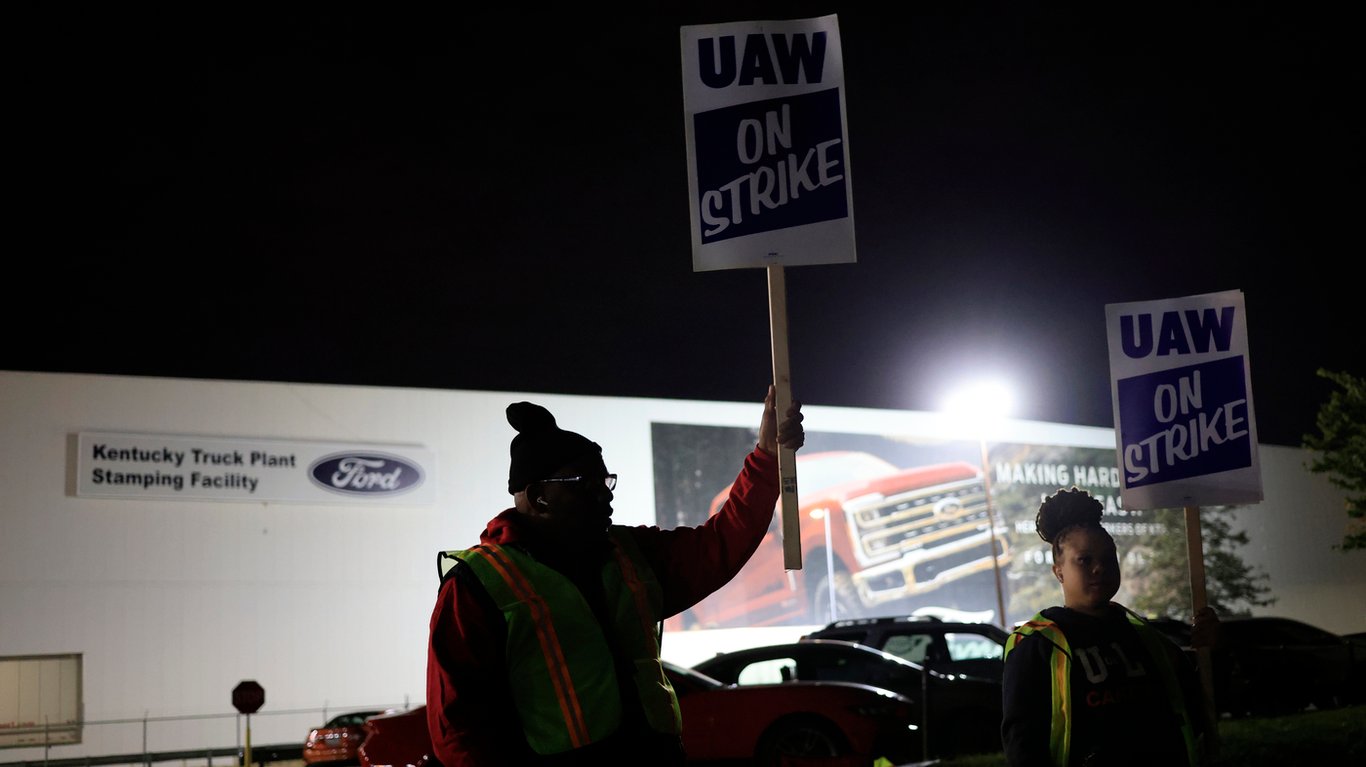 UAW Workers Reject Contract Agreements at Ford and GM Plants
UAW workers at Ford's Kentucky Truck Plant and GM's Flint Assembly plant have voted against the contract agreements reached by the United Auto Workers union, marking a setback in ongoing negotiations.
At the Kentucky Truck Plant, a majority of workers, 54.5% of the 4,118 ballots cast, voted against the proposed contract. The plant, which employs around 8,700 workers, is Ford's largest manufacturing facility. Similarly, at GM's Flint Assembly plant, 52% of the 3,425 ballots cast were no votes. The plant, known for producing Chevy Silverado and GMC Sierra pickup trucks, has approximately 4,700 workers.
The contract agreements offered generous benefits, including a substantial 25% wage increase and improved retirement contributions. However, workers expressed concerns that these agreements did not fully restore wages and benefits to pre-2007 levels, a key demand in their negotiations. Many believed that the proposed contracts fell short of their expectations.
Despite the rejections, a majority of UAW members have still shown support for the contracts. Around 10,000 ballots were cast in favor of the agreement at GM, while approximately 25,000 were cast in favor at Ford. These numbers indicate that a significant portion of union members believe the contracts meet their needs and aspirations.
However, in order for the contracts to take effect, a majority of yes votes must be obtained from workers at each of the Big 3 automakers (Ford, GM, and Chrysler). Should any of the contracts fail to receive this majority, negotiators will have to return to the bargaining table, prolonging the process and adding uncertainties to the future.
Final tallies at the Big 3 automakers are expected to be announced in the coming week. This announcement will provide a clearer picture of whether the proposed contract agreements will be accepted or if further negotiations will be necessary.
UAW President Shawn Fain has emphasized that the workers hold the highest authority in the decision-making process. Ultimately, the choices made by the UAW workers will shape the future of labor relations in the automotive industry, and their voices will have a significant impact on the outcome of these negotiations.