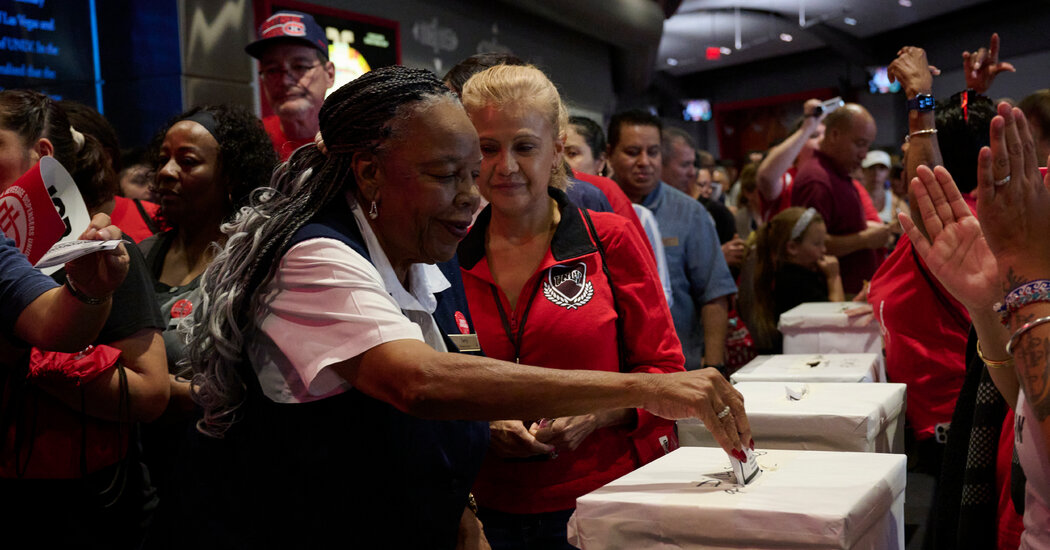 Las Vegas Hospitality Workers Vote Overwhelmingly to Authorize Strike
Hospitality workers in Las Vegas have voted in favor of authorizing a strike against major resorts along the Strip, according to the Culinary Workers Union Local 226 and Bartenders Union Local 165. These unions represent a combined total of 60,000 workers across Nevada. The vote was approved with an impressive 95 percent majority, highlighting the widespread dissatisfaction among workers.
While this authorization vote is a significant step, it does not immediately mean that a strike will take place. The workers still need to negotiate a new contract deal with the major resorts before any strike action can occur. The contracts for approximately 40,000 workers, including housekeepers, bartenders, cooks, and food servers at MGM Resorts International, Caesars Entertainment, and Wynn Resorts, expired on September 15th.
Originally, these contracts were scheduled to be renegotiated by June, but were extended until September. Additionally, there are other workers currently operating on extended contracts that can be terminated at any time. This situation has created uncertainty and frustration among the workforce.
The potential strike comes at a crucial time for Las Vegas, as the city is preparing to host major sporting events in the upcoming months. The impact of a strike on the city's economy would be significant, with thousands of workers potentially walking off the job during these high-profile events.
The hospitality industry plays a vital role in Las Vegas' economy, as the city heavily relies on tourism and entertainment. The Culinary Workers Union Local 226 and Bartenders Union Local 165 are demanding better job security, increased wages, and improved working conditions for its members. The outcome of the negotiations between the unions and the major resorts will have far-reaching effects on the hospitality sector in Las Vegas.
As the negotiations continue, Las Vegas remains on edge, waiting to see if a strike will ensue. The next steps will be crucial in determining the future of the workers and the impact on the city's economy. For now, the spotlight remains on the Culinary Workers Union Local 226 and Bartenders Union Local 165 as they fight for a fair deal for their members. Stay tuned for updates on this developing story.