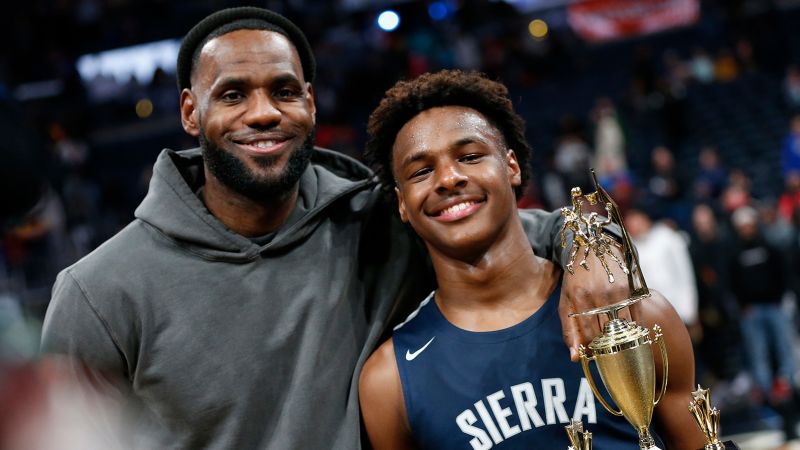 Bronny James, son of NBA icon LeBron James, recently experienced a terrifying incident during a basketball practice when he went into cardiac arrest. The 18-year-old was immediately rushed to Cedars-Sinai Medical Center, but thankfully he has since been released and is now recovering at home.
The USC athletics medical staff played a crucial role in responding swiftly and effectively to the emergency, according to reports. However, details regarding the presence of medical staff at the scene remain unclear as the 911 call, which was obtained by CNN, has been redacted in accordance with California's public records disclosure laws.
LeBron James took to Twitter to express his gratitude for the support his family has received, highlighting that they are safe and healthy. This news undoubtedly brought relief to fans and followers who were concerned about Bronny's well-being.
The incident sheds light on the severity and potential consequences of cardiac arrest. The American Heart Association warns that without immediate treatment, cardiac arrest can be fatal. However, it can be reversed with prompt administration of CPR and the use of a defibrillator.
Bronny James, who now wears a heart monitor at home, is part of the highest-risk group for sudden cardiac arrest, as confirmed by Dr. Jonathan Drezner. This risk is particularly higher among Black male NCAA athletes playing Division I basketball, in comparison to their White counterparts.
Although sudden cardiac arrest is relatively rare among young athletes, it is not unheard of. Bronny James, who underwent a cardiac screening a few months ago with normal results, joins the list of young athletes who have experienced this frightening medical event.
Bronny James, a highly-rated recruit and Sierra Canyon High School graduate, now faces the arduous task of recovering. The timeline for his recovery will largely depend on the underlying cause of the cardiac arrest and his specific health condition.
As the young basketball player recovers, the incident serves as a reminder of the importance of regular cardiac screenings and the need for proper medical equipment and staff presence at sporting events. Efforts must be made to prioritize the health and safety of athletes, particularly those at higher risk for cardiac events.
In conclusion, Bronny James' recent cardiac arrest incident has brought awareness to the seriousness of sudden cardiac arrest among young athletes. While his recovery progresses, it is hoped that this incident will prompt discussions and actions to improve safety measures and medical support for athletes nationwide.