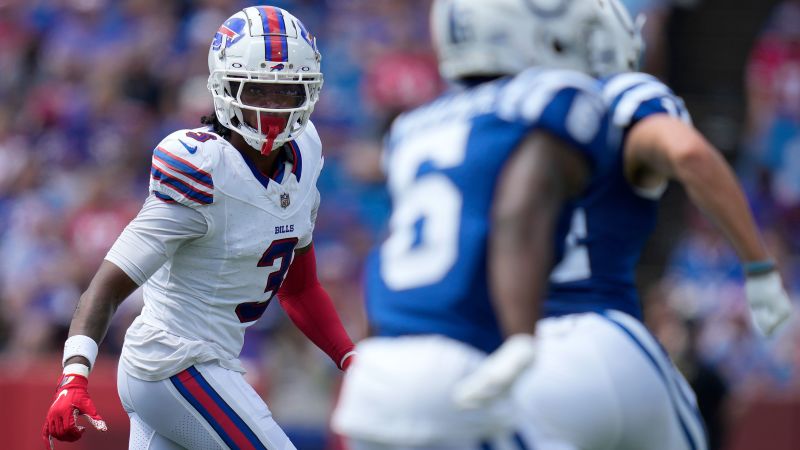 Buffalo Bills star Damar Hamlin made an inspiring return to the NFL field after a terrifying cardiac arrest incident earlier this year. The 25-year-old safety received a warm welcome from fans as he played in the team's preseason game against the Indianapolis Colts.
Hamlin's return was a testament to his determination and resilience. Despite facing a life-threatening situation just months ago, he bravely stepped onto the field, ready to take on the challenges ahead. His comeback was met with applause and support from both teammates and spectators.
Entering the game in the first quarter on kickoff coverage, Hamlin wasted no time making an impact. He made three tackles, including a crucial fourth down tackle that showcased his exceptional skills and contribution to the team. His performance was a clear indication that he hadn't lost a step despite the adversity he had faced.
The cardiac arrest incident occurred during a game against the Cincinnati Bengals earlier this year. Hamlin collapsed after a tackle to his head and chest area, leaving everyone in shock. Quick-thinking doctors and trainers immediately stepped in, performing CPR and ultimately reviving Hamlin through resuscitation and defibrillation. He then spent more than a week in the hospital and relied on a ventilator for support.
Following extensive evaluations by specialists, Hamlin was cleared to resume football activities in April. The cause of his cardiac arrest was determined to be commotio cordis, a rare condition that involves a sudden blow to the chest, resulting in the disturbance of the heart's electrical system. Despite this scary diagnosis, Hamlin refused to let it define his future in the sport.
Since being cleared, Hamlin has reached several milestones on his journey towards full recovery. He has participated in full practices, reacclimatizing himself to the demands of the game. Eventually, he was able to don pads again, signaling a major step forward in his comeback journey.
Hamlin's triumphant return to the NFL field serves as a reminder of the strength and resilience of athletes. It is a testament to his unwavering determination to overcome adversity and pursue his passion for football. As he continues to progress in his recovery and contribute to the Buffalo Bills' success, Hamlin's story will undoubtedly serve as an inspiration for others facing their own challenges.