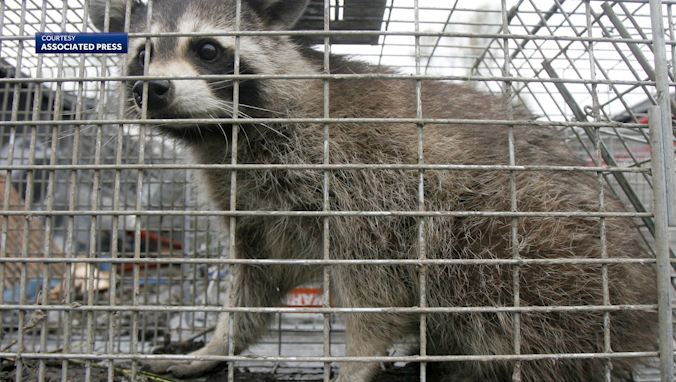 Title: Rabies Outbreak Prompts Extensive Trapping and Vaccination Efforts in Omaha Area
Introduction:
In response to the discovery of a stray kitten infected with a raccoon rabies strain, authorities from the CDC and USDA have initiated a comprehensive campaign involving trapping, testing, and vaccinating wildlife in the Omaha area. The strain, typically unseen west of the Appalachian Mountains, has prompted officials to extend their focus area from F Street to Fort and 72nd to the Missouri River.
Trapping and Testing Efforts:
To ensure public safety and prevent further spread of the raccoon strain, officials from the USDA may soon visit residents' houses to discuss trapping efforts in their yards. Additionally, residents may expect to receive letters from the USDA detailing the situation. The trapping and testing process, overseen by the Douglas County Health Department, does not have a specified end date but is estimated to last several weeks at a minimum.
Stray Kitten Fatality and Human Exposure:
Tragically, the stray kitten carrying the raccoon-based rabies strain fell ill and subsequently passed away. Ten individuals, six of whom provided care to the infected animal, came into contact with the cat. However, prompt action was taken, and all ten individuals have commenced treatment and are reported to be in good health.
Instructions for Residents:
Residents are urged to keep wild animals contained if they are trapped inside a home or garage, and they are advised to contact the Humane Society for assistance. Additionally, residents are advised to remain vigilant for any abnormal behavior displayed by stray or wild animals, including aggression, confusion, unusual timidity, or drooling.
Long-Term Plans and Expansion:
Both the CDC and USDA will actively engage in trapping, testing, and vaccinating wildlife within the target zone to monitor the situation. Furthermore, authorities are developing a comprehensive long-term plan to prevent the recurrence of such incidents. The investigation is expected to continue beyond the current timeline of several weeks if additional cases or positive tests emerge. Consequently, the targeted area may expand to incorporate any new findings.
Pet Vaccination and Reporting Stray Animals:
The Health Department emphasizes the significance of vaccinating pets against rabies and advises owners to keep them supervised and prevent unsupervised roaming. In the event of encountering a stray or wild animal or encountering roadkill, residents are urged to contact the Nebraska Humane Society.
Conclusion:
With the discovery of a raccoon rabies strain in a stray kitten, the CDC and USDA have taken swift action to protect public health in the Omaha area. Trapping, testing, and vaccination efforts are underway, with no definitive end date specified. The investigation may extend beyond the current timeline, and authorities remind residents to be proactive by vaccinating their pets and promptly reporting any encounters with stray or wild animals. By working together, the community can mitigate the risks associated with this rabies outbreak.