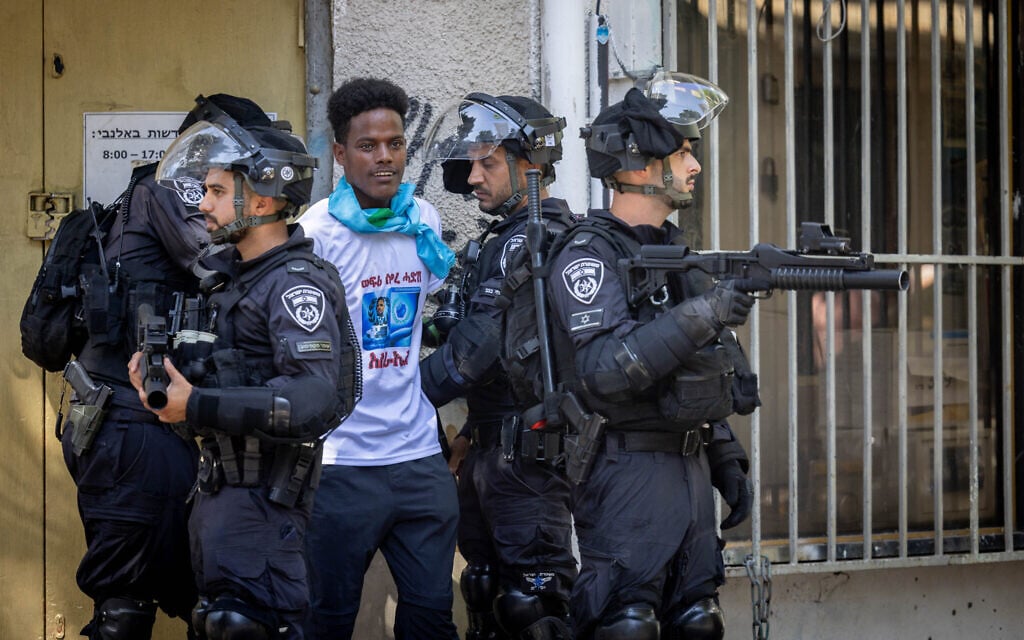 Title: Dozens of Eritrean Asylum Seekers Detained Following Violent Clashes in Tel Aviv
Tel Aviv, Israel – Over 50 Eritrean asylum seekers have been placed in administrative detention following their suspected involvement in violent clashes that erupted in the city. The clashes, which occurred between supporters and opponents of Eritrea's government, left at least 170 individuals, including police officers, wounded.
The suspects were initially questioned by the Population, Immigration, and Border Authority (PIBA) and subsequently transferred to Givon Prison. Those detained have been found to include supporters of the Eritrean regime, opponents, and unaffiliated individuals.
Prime Minister Benjamin Netanyahu has announced that the government will actively pursue the deportation of those involved in the riots. While law enforcement initially hesitated to pursue hearings for the suspects, National Security Minister Itamar Ben Gvir's call for their detention changed the course of action.
The decision to place the detainees in administrative detention reflects the government's reluctance to pursue criminal charges against them. This approach is aimed at preserving their chances of being accepted into a third country.
In addition to those detained, police have also arrested eight more Eritrean migrants allegedly involved in a separate street brawl. These incidents further exacerbate the precarious situation faced by migrants and asylum-seekers in Israel. Many have limited refugee status and encounter ongoing efforts to make their lives increasingly challenging.
The issue at hand raises significant concerns about court overreach and the protection of human rights. While the state is keen on addressing the violence, it is faced with the delicate balancing act of safeguarding individual rights whilst ensuring public safety.
An estimated 30,000 migrants, predominantly from Sudan and Eritrea, are believed to reside in Israel. As the situation unfolds, the plight of these migrants and the broader debate surrounding their future in the country remain uncertain.
As the Israeli government grapples with these challenges, the eyes of the international community will undoubtedly remain on incidents like these, as they underscore the complexities of immigration, foreign policy, and the protection of human rights.