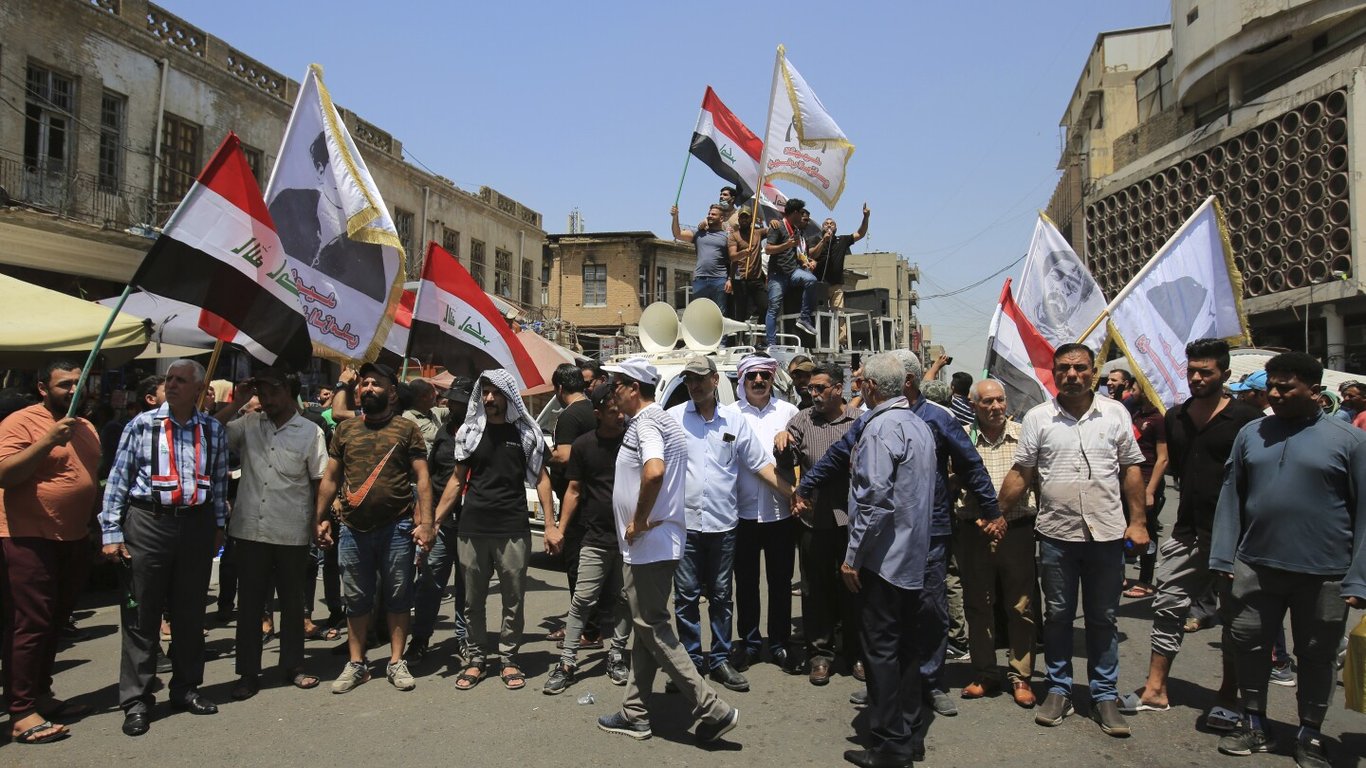 Protesters Rally Against Surge in Dollar Exchange Rate Outside Central Bank of Iraq
Baghdad, Iraq – Protesters gathered outside the Central Bank of Iraq in Baghdad yesterday, demanding urgent action to address the sharp increase in the dollar exchange rate. The rate soared from 1,470 dinar per dollar to 1,570 dinar per dollar following the United States' blacklisting of 14 Iraqi banks over suspicions of money laundering and funneling funds to Iran.
Bank owners have expressed concern over the consequences of the ban, urging the Iraqi government to intervene to protect the banking sector and attract foreign investment. They emphasize that the sudden spike in the dollar exchange rate will have negative implications for the economy as a whole.
The demonstrators are demanding government action to curb inflation and stabilize the dinar's value against the dollar, which has been constantly fluctuating in recent months. Ordinary citizens are grappling with the effects of this rapid devaluation, as the cost of imported goods, including essential commodities, skyrockets.
Responding to the protests, the Central Bank chief, Mustafa Ghaleb, attributed the rise in the street price of the dollar to certain merchants' reluctance to utilize the official electronic platform for currency requests. He emphasized that the bank is actively working to increase the availability of dollars through both regular banking channels and foreign currency auctions.
This recent surge in the dollar exchange rate mirrors the previous dive in the dinar's value earlier this year, which was similarly triggered by measures taken by the United States to combat money laundering and restrict Iraq's access to hard currency. These actions have significantly impacted the local economy and created uncertainties among the population.
In efforts to stabilize the exchange rate and restore confidence in the Iraqi dinar, the government is under pressure to address these concerns urgently. Experts believe that the implementation of comprehensive reforms, including strengthening anti-money laundering regulations, enhancing transparency, and attracting foreign investment, is vital to address the current economic challenges facing Iraq.
As the protests intensify and citizens continue to voice their grievances, the government and the Central Bank of Iraq face an uphill battle to restore stability and ensure a reliable exchange rate that will protect the national economy and the interests of its people. Further developments are expected in the coming days as Iraq grapples with the consequences of the surge in the dollar exchange rate and seeks tangible solutions to mitigate its impacts.