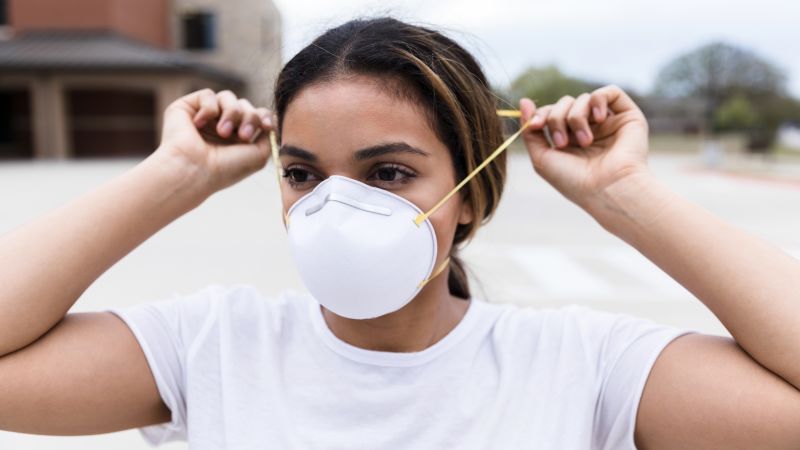 Title: Experts Advise High-Risk Individuals and Caregivers to Wear N95 Masks as Covid-19 Cases Spike
As Covid-19 cases continue to surge, experts are urging high-risk individuals and caregivers, including President Joe Biden, to take extra precautions by wearing N95 masks in crowded places. This advisory is particularly important for individuals with underlying health conditions such as diabetes, cancer, and heart disease, as well as those who have undergone organ or stem cell transplants. Others at risk include individuals living with HIV, stroke survivors, dementia patients, and those with mental health issues. Additionally, caregivers of individuals vulnerable to severe illness or complications should also prioritize wearing the recommended masks.
While the US Centers for Disease Control and Prevention (CDC) currently does not recommend universal masking, this guidance may change if hospitalizations reach critical levels. Although current hospitalization rates in the US have not yet doubled, experts predict that this could occur in the coming weeks as the numbers usually lag.
Wastewater studies have indicated a concerning rise in Covid-19 virus levels, suggesting an increase in positive cases. Experts have also identified new variants, such as BA.2.86 and EG.5, which have contributed to the recent acceleration of the virus. These variants have raised concerns about their potential resistance to existing vaccines and boosters. However, a new booster specifically targeting the Omicron subvariants, known as XBB, is expected to be released soon. In the meantime, health officials advise older adults, immunocompromised individuals, and those who have not received a bivalent booster to get vaccinated promptly.
In response to the surge in Covid-19 cases, some institutions, like Atlanta's Morris Brown College, have reintroduced mask mandates. Pediatricians are also bracing themselves for an uptick in respiratory illnesses as schools reopen.
Despite these alarming developments, a recent Axios/Ipsos American Health Index poll highlights that Americans do not seem to be adjusting their behavior accordingly. The poll reveals that the number of adults wearing masks in public continues to decline, and a majority have not taken a home Covid-19 test in the past week.
Experts stress that Covid-19 is here to stay, and communities need to adapt by adhering to preventive measures such as universal masking and vaccination. With rising cases and the emergence of new variants, it is crucial for individuals to prioritize their health and that of those around them.
Word Count: 383