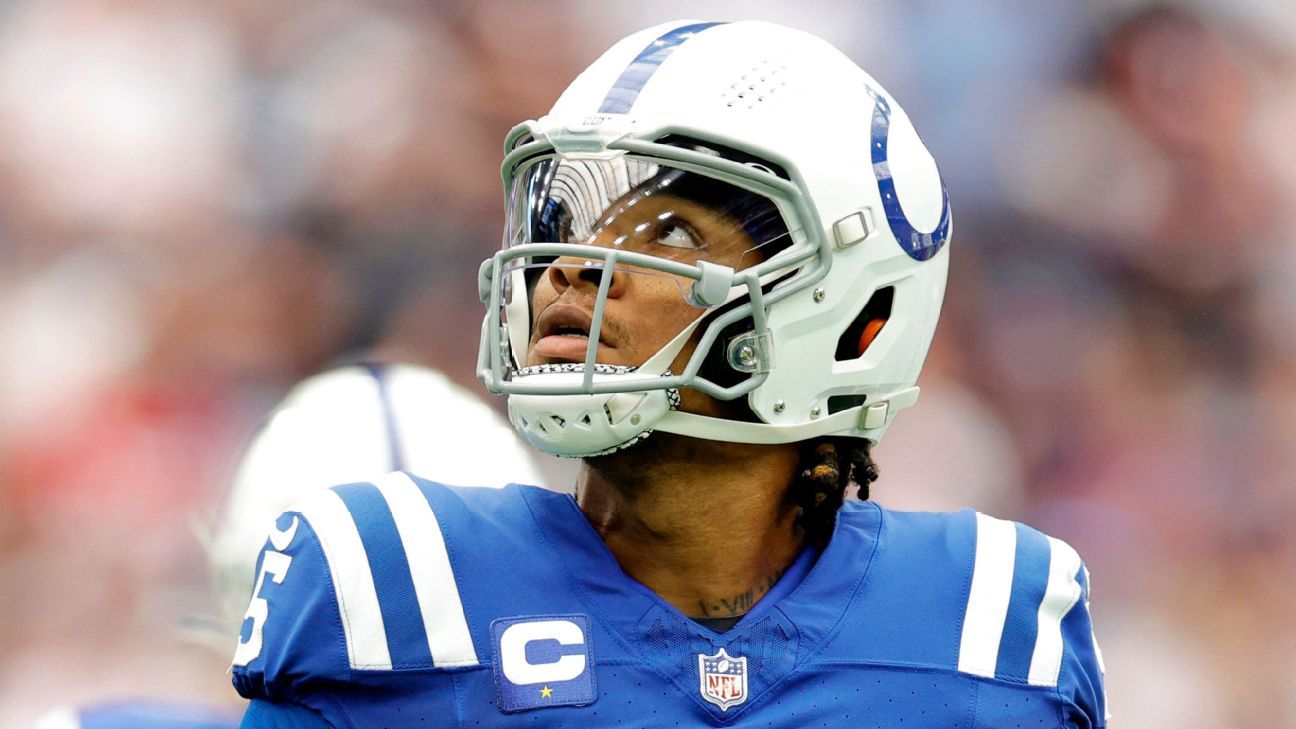 Colts Quarterback Anthony Richardson to Undergo Season-Ending Surgery for Right Shoulder
Indianapolis, IN – Colts fans were disheartened to learn that their star quarterback, Anthony Richardson, will miss the rest of the season due to a right shoulder injury. Richardson sustained an AC joint sprain during a game against the Titans on October 8th, and medical experts have determined that surgery is the best option for his long-term health and recovery.
The Colts' medical staff consulted with specialists to make an informed decision about Richardson's treatment. Given his position as a quarterback and the demands it places on his shoulder, surgery was deemed necessary to ensure his future performance and longevity in the game.
Speaking about the decision, Colts' head coach Shane Steichen emphasized the importance of Richardson's long-term well-being. "Anthony is a talented young athlete, and we want to do everything we can to support him in his recovery. We believe that undergoing surgery now will give him the best chance to come back stronger and continue to thrive on the field."
Richardson, while disappointed to miss the remainder of the season, is determined to make the most of his time off. "Injuries are a part of the game, and I have faith in the medical team's decision. This setback will give me an opportunity to grow and learn from the sidelines. I'll be rooting for my teammates and doing everything I can to support them."
In Richardson's absence, backup quarterback Gardner Minshew will take over as the starting quarterback for the Colts. Minshew has shown promise in his limited playing time this season, and the team is confident in his abilities to lead them to victory.
Richardson, in his limited appearances this season, performed admirably. He completed 50 passes for a total of 577 yards and three touchdowns. Additionally, he rushed for 136 yards and scored four touchdowns. However, the injury occurred during a designed run play, which exposed Richardson to hits from opponents.
Coach Steichen, while acknowledging the nature of the injury, does not believe Richardson needs to change his playing style at this time. "Anthony's playing style is what makes him unique and effective on the field. We will work with him to ensure he can continue to utilize his talents while minimizing the risk of further injury."
Colts fans will undoubtedly miss seeing Richardson on the field, but they can take solace in knowing that his long-term health and recovery are the priority for the team. With Minshew stepping up as the starting quarterback, the Colts will continue to fight for victories as they aim for a successful season.