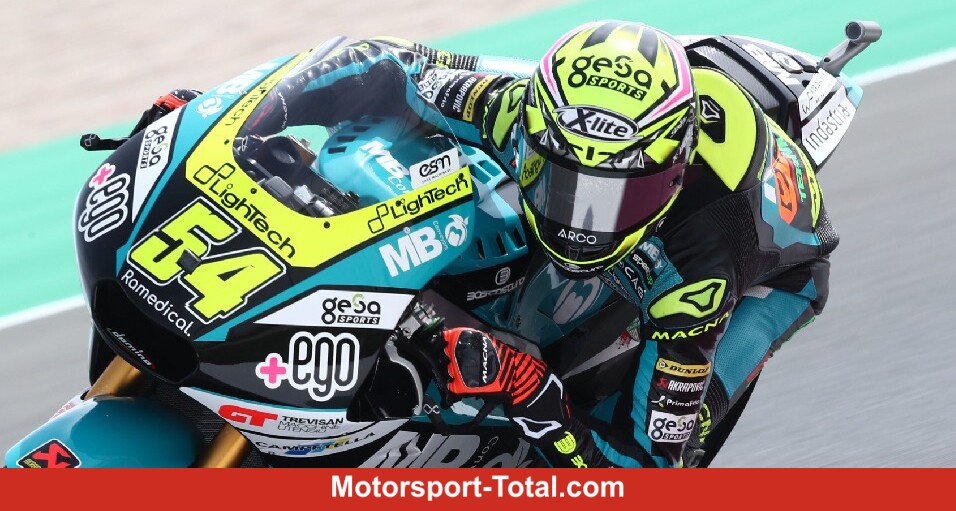 (Motorsport-Total.com) – Boscoscuro rider Fermin Aldeguer set a clear best time with 1: 47.835 minutes on the wet track, trailing Moto2's third in the Galex race in Motolica. Augusto Fernandez and Jake Dixon (both Collex) finished second and third, respectively.
Fermin Alteguer took the lead at the start of FT3, never giving up on it
Zoom in
During the second training session this Saturday, the track was not as wet as it had been on the Moto 3, but it was still very wet to the slix. As a result, there is no improvement in this class compared to the times set for Friday.
The session began with Rocky Sonda van den Goodberg crashing in turn 5 and with Highside. In the classification, Alteguer was in the lead early on with his Poscoscro engine – and it was second only to Galex rival Fernandez by one second.
On the dirt track, some drivers reported a grip problem. As it did not rain, the asphalt was not really wet or dry. The temperature increased so that the wet tires warmed up quickly. Thus, many waited too long in the pits.
It was only at the end of the session that traffic on the track increased again. However, the order at the top has not changed. Aldeguer stood ahead and extended his lead to 1.441 seconds over Fernandez. In the final attempt, Dixon overtook Tony Arpolino to advance to third.
Aaron Canet advanced to his last flying lap and finished fifth. George Navarro, Pedro Acosta, Barry Baldas, Sean Dylan Kelly and Somchiat Chandra took the top 10 spots. Marcel Schrter finished thirteenth.
Dixon continues to lead a more integrated schedule than Celestino Vietti and Sam Lowes. Alteguer is in sixth place there. Schrட்டர்ter advanced to the top 10 on Friday, failing to finish 15th and then had to fight for improvement in Q1.
Direct Qualifiers for Q2:
Jack Dixon (Galex)
Celestino Viti (Galex)
Sam Lowes (Galex)
Pedro Acosta as Galaxy
Augusto Fernandez (Galex)
Fermin Altegur (Poscoscuro)
Albert Sands (Galex)
Tony Arpolino (Galex)
Aaron Connaught as Galax
Manuel Gonzalez (Galex)
George Navarro (Galex)
Cameron Popier (Galex)
Marcos Ramirez (Galex)
Romano Fenatti (Galex)