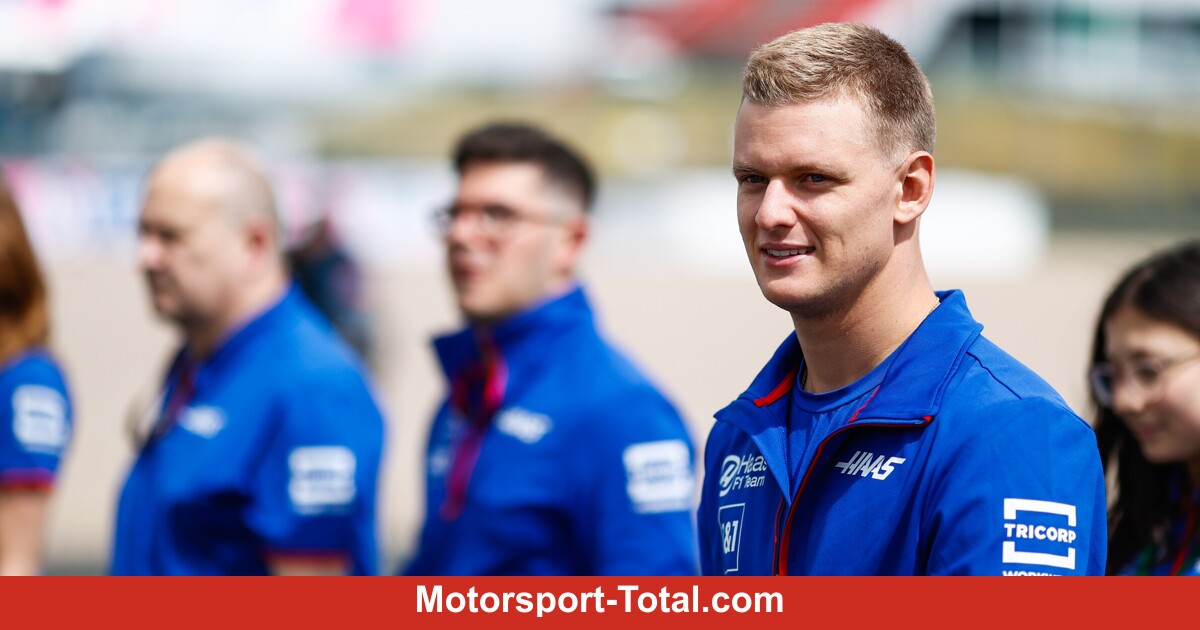 2:49 p.m.
FT1: The final stage
Hamilton sighed and walked out again – again in the intervals, meanwhile as the rain had started again. So we will not take much action on the track here.
It has to go within the last ten minutes, only the local hero is on track. Lots of work waiting for all teams in FT2 …
---
2:38 p.m.
FT1: The clock is running
More silence along the way. Expert Jensen Button explains to Sky that it is not certain whether anyone will drive again in FT1. He did not expect the road to dry out so quickly.
That's the problem: some areas are already dry, while others are still wet. And the last 20 minutes is to start. One session per tank so far.
---
2:35 p.m.
The cutting helmet got stuck
There is still time for some off-track stories. Because no one will drive anymore. Vettel actually had a special helmet for this race – but it is currently stuck in customs.
That's why he now drives in his standard design.
---
2:26 pm
FT1: A little going on
Shoemaker, Potas and Hamilton are currently on track, with only eight drivers setting the time. But now the sun has set. Presumably everyone was off until the track slugs were dry enough.
Let's see how long it takes. "Half time" in FT1 is already equal.
---
2:17 p.m.
Seidl: Things should go better at Silverstone
Along the way, the action (in the real sense!) Goes straight ahead. Instead, we'd love to hear how team captain Andreas Seidel evaluates McLaren's chances over the weekend.
"This is definitely a better fit for us compared to Montreal," he told Sky: "We still have a car that can drive in the top 10 and fight against teams like the Alpine, Aston Martin or Alfa Romeo."
"We are still fourth in the Custers' Championship, which is a great result for us after the first nine races," Seidl recalled, admitting that McLaren was "not stable enough yet".
"We had good weekends on the podium in Melbourne, Imola and Monaco, where we were somewhat at the level of the Mercedes team. But unfortunately we also had weekends like the one in Montreal now," Seattle said.
Seidl said the main goal of the second half of the season was to bring more consistency in the results, which would be enough for us to retain fourth place until the end of the year.
---
2:03 p.m.
FT1: Intermediates
After all, four Mercedes and Ferrari drivers go straight out. Today the rain is doubly annoying as many teams have (big) updates. Of course you should check them out. If the path is wet it will not help …
---
1:58 p.m.
FT1: Rain
A few minutes ago we were a little overjoyed: now it started raining again! Let's see who dares to take the path right away …
---
1:55 p.m.
FT1: Open Session Ticker Now!
FT1 starts in five minutes. Here at this point you can find the most important information, pictures and voices. Get full coverage on our session ticker with Stefan Ehlen. Good to allow both tickers to run parallel!
Check the temperature quickly: the wind is less than 17 degrees and the asphalt is less than 27 degrees. As is well known, air always plays a role in Silverstone.
---
1:48 p.m.
Next
Norris also comes out this weekend with a special helmet design. It's chic, but I sometimes ask myself if I can talk about "special design" when drivers use 15 like a year.
Because if all designs are special, in the end it is not one …?
---
1:42 p.m.
Special helmet
I do not know NFTs better than animals, which is why I do not like this helmet of Russell's like Albany's helmet 😉 I'm objective, but of course it's very chic!
Within 20 minutes it finally starts with FT1 on track – in the dry state.
---
1:34 p.m.
Overview
Here's an overview of all the updates on Silverstone this weekend. Williams has the biggest package with them, there are a whopping twelve points on the list!
On the other hand, there are no updates on the AlphaTauri and the innovations on the Ferrari, Alfa Romeo and Haas are managed with only one point on the list. Overview here:
---
1:24 pm
F1 tests the new camera
We are now accustomed to the helmet camera. Coming soon to FT1, Formula 1 will be trying out another new camera. A camera will be attached to the Norris McLaren, which will point the brake and accelerator pedals.
The idea is not entirely new: people have already tested it in the 1990s, but no such camera has been used since the 2000s. Let's see how the test works. Definitely waiting for pictures!
---
1:11 p.m.
The curfew was broken
A little side note: Mercedes, Ferrari and Haas have already broken the curfew this weekend. Friday night Scuderia, Thursday night Friday Arrows and Haas.
In all three cases, there were no fines. Both Mercedes and Haas were the second of eight jokers allowed in the case, while Ferrari topped the list of six.
---
---
12:55 pm
Updates
Meanwhile, the first detailed images of the team updates are slowly coming out of Silverstone. At Mercedes we see, among other things, a new underbody in the Red Bull, the engine cover being modified.
Then we will get you an overview with all the updates in the whole field!
---