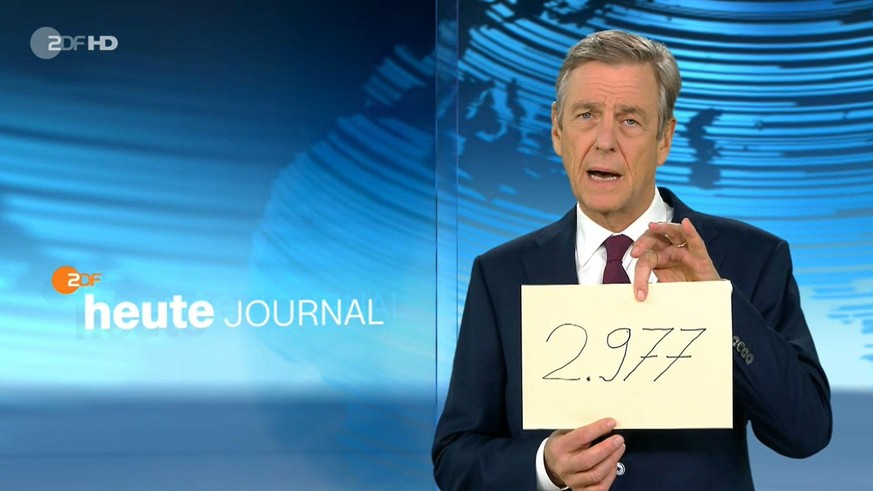 After 2977 issues of the "Heat-Journal", it was over for Klaus Kleber.Image: ZDF screenshot
After Jan Hofer, Pinar Atalay and Linda Zervakis, another public broadcaster had to deal with the departure of a keynote speaker: on Thursday evening, Claus Kleber last hosted the "Heat-Journal" on ZDF. In February 2003, he began as the show's main host, so he's been presenting it for almost 19 years.
At the beginning of the issue, Kleber had an identification number "2977" He was often on duty for the "Heat-Journal." "Nothing more is available," he said before the news broke. Among other things, a conversation with virologist Christian Troston was on the agenda.
Surprise for Klaus Klepper
Looking back on the year, Kleber's colleague Kundula Kaus took the stage. "Thank you from the bottom of my heart" he addressed him on behalf of the editorial board – and spoke of "a better sense of journalism". Finally she added:
"We will miss you and especially me. Now I have to say something you do not want to hear, but I have to say it: you're leaving, it's the end of an era."
A separate clip was also cut for Kleber, with various highlights from the time he was the spokesman for the "Heat-Journal". In it he described, among other things, "the heart and soul of this project." Finally, Klobery addressed the group and the audience again.
One player looked back at Kleber's life.Image: ZDF screenshot
Considering the world environment, he concluded that there is no need to be positive about many things at the moment, and that humanity really has the "knowledge, technology and historical experience" to deal with all of this. For the first time, "our tools are as powerful as our problems". Without a firm, well-known public, "nothing," Kleber continued. Now he has formed a link with his colleagues and staff: "That's why there should be editorial departments like the ones behind this show. Interested professionals who can compete every morning with the sole aim of creating the best show." He then concluded his statement with the words:
"Good night, good luck and Happy New Year. Above all, thank you so much to everyone here. See you soon."
This "Tagesschau" spokesman also stopped
However, Klaus Kleber was not the only one to retire on Thursday. It was also the last working day of news anchor Klaus-Erich Botskess. The 65-year-old hosted the last "Tagesschau" on December 30 at 5pm after 25 years. At the end of the last issue he said:
"I want to thank you for allowing me to be a frequent guest, and for the wonderful, brilliant, very pleasant team I have been able to serve for many years."
Claus-Erich Boetzkes shows humor with this photo in his last "Tagesschau" magazine.Screenshot ard
In this case, he added, he was just crying. He also expressed a sense of humor. After his final speech, he showed pictures of what it would be like to be a retiree: The retouched photos showed him once without hair, once with long mane. In another picture he was shown with a white beard. To this he said: "Aging with dignity is the latter goal." He then mentioned the next "Tagesschau" and said goodbye with a simple "Adieu".
"heute-journal": Follows Cybers Kleber
Christian Sewers will replace Kleber in "Heat-Journal", who previously took over the show as a delegate. She will appear in her permanent new position from January 10, with Marietta Slomka as the second major presenter.
Kleber was active for ZDF more than 160 evenings a year. However, there is no reason to fear that he might get bored of retiring. A few days ago he told the DPA what his daily life would be like: "I want to know the event where everyone talks the most – social life, friendship, I'll try things like that."
Gundula Gause found emotional words for his colleague in the "heute-journal".Image: ZDF screenshot
Coincidentally, the 66-year-old is still not completely out of the TV window. Documentary projects in particular are planned for the coming year in conjunction with ZDF. Kleber said: "ZDF wants to make more documentaries. I want to do them. Currently, journalist Angela Anderson and I are making a documentary about the digital future. It should be ready in the second quarter of 2022."
(Ju)