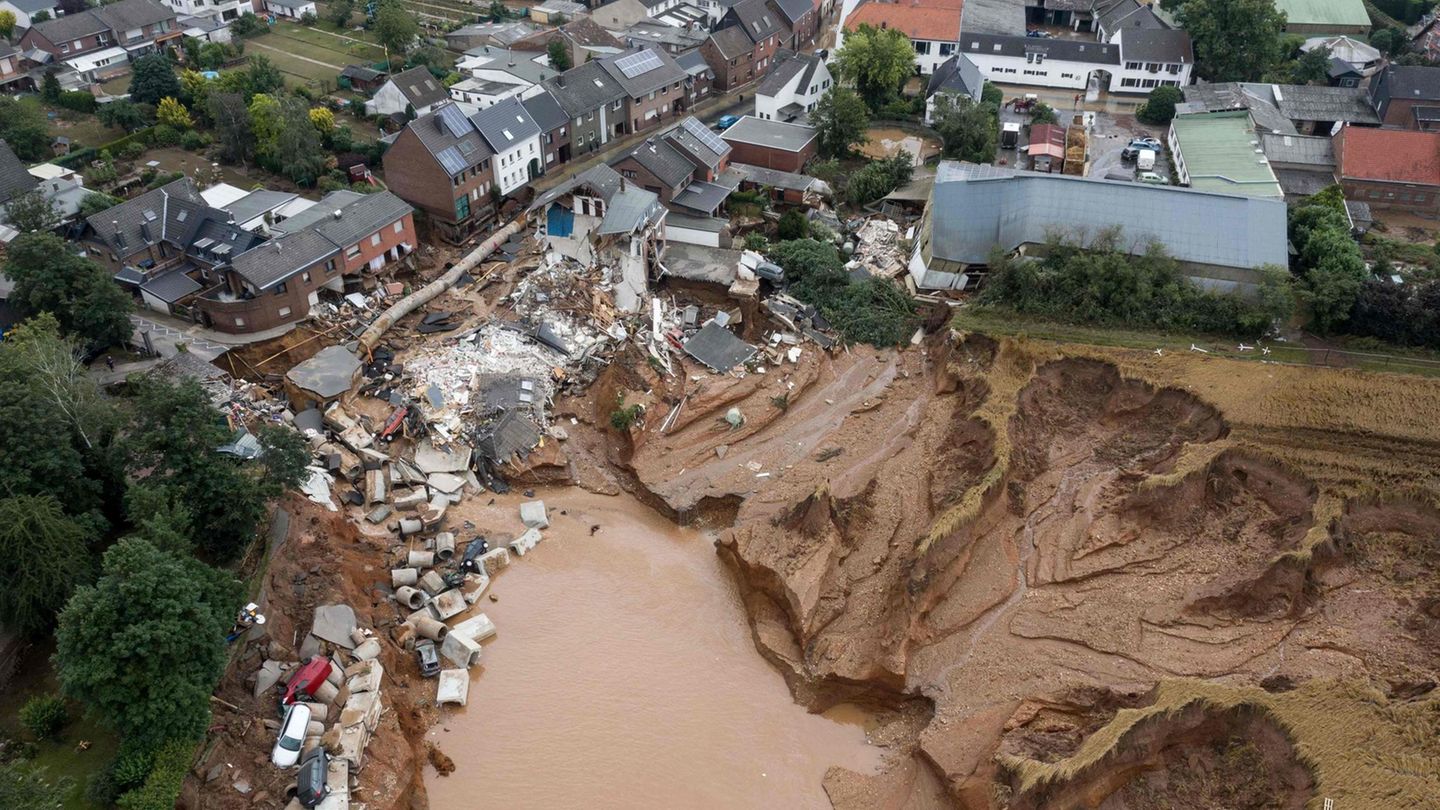 Many houses are crumbling
Due to the flood disaster: Raid against open pit operators in Erftstadt
During the floods last July, numerous houses collapsed near the gravel pit at Erfstadt in northern Rhine-Westphalia. So now the police have taken action against the operator of the pit in the open.
Investigators launched a search against several suspects following a severe landslide in Erftstadt during the July floods. More than 140 police officers searched more than 20 offices and residential addresses, the public prosecutor announced Tuesday morning. Proceedings are underway against the owner and lessee of the open-pit mine in Erftstadt, five suspects from the operator and four suspects from the Arnsberg District Government who have the supervision and licensing authority responsible under federal mining law.
Many houses collapsed in Erftstadt

On the night of July 16, 2021, in Erftstadt-Blessem, near Cologne, land near a gravel pit in the Erft River was flooded by heavy rains. Extreme levels of rainfall over northern Rhine-Westphalia and the Rhineland-Palatinate caused severe flooding. Several buildings were razed to the ground in the gravel pit at Erftstadt. There were no casualties. The figure of the great abyss burned in the memories.
The state attorney's office now suspects the flood was caused by negligent failure, building risk and a breach of federal mining law. According to the investigations conducted so far, the southern edge of the "old part" of the affected gravel pit could not have had a flood protection wall in accordance with the regulations, as well as the permissible steep banks, according to the researchers. Both features may have contributed to the high water intake in the gravel pit.
"It is doubtful whether the accused would have recognized the flood protection wall and the condition of the pit banks due to their professional involvement in the gravel pit, and they should have taken remedial action," said Ulrich Bremer, state attorney for Cologne. . The accused were aged between 29 and 65 years. Several experts were called in to clarify the responsibilities. Initially, action was taken against unidentified individuals.
Five Weeks After the Flood: This is how it looks in the Ahr Valley now


10 pictures
The test was conducted Tuesday in Bergheim, Erftstadt, Cologne and Dortmund. According to the public prosecutor, the operating company is located in Berkeley, near Cologne. However, "to find and preserve process-related documents" – the rooms of expert and consulting firms and expert and survey offices were also searched. One of the items searched was in Thuringia. The branch of the consulting firm is located there.
Crazy
AFP
DPA